Sal and Stephanie were the perfect couple to wrap up our wedding season. The best thing about a wedding is that the couple are getting married (!) and committing themselves to each other. It's not just about the details and all the things that could go wrong on the wedding day. Sal and Stephanie definitely had some surprises on their day (specifically, a drenching thunder shower that relocated the ceremony), and were still one of the most relaxed and excited couples we've ever photographed. Getting married to each other was what it was all about and they both never lost sight of that.
The whole wedding day was miraculously relaxed. Sal and Stephanie were even making their own (funfetti!) cake the night before, completely chill. (Also, it's pretty impressive when a couple can civilly navigate the kitchen together at all, let alone on their wedding day). Everyone spent the morning together, eating the dad's famous breakfast.
This wedding was one of our favorites too, since this is now the third sister in the same family whose wedding we've photographed this year. We love the heck out of this family, and not only have we gotten to stay with them in Denver for each of the weddings, we got to go on vacation with them in Telluride after Stephanie's wedding! (Telluride: holy cow).
All three daughters married this year! And one with a baby on the way. :)
The ceremony was at a beautiful location at the Colorado Academy, and even though the morning was beautiful, the weather started looking a bit sketchy as everyone gathered. By the time Stephanie was outside and ready to walk up the aisle, it had turned into a straight-up downpour. Using grocery bags to try and protect our cameras... classy stuff like that. Everyone evacuated and they decided to squeeze it all into the reception hall. Honestly, it was pretty exciting and awesome to see everyone improvise to make it happen.
And the improvised-location ceremony was completely stunning.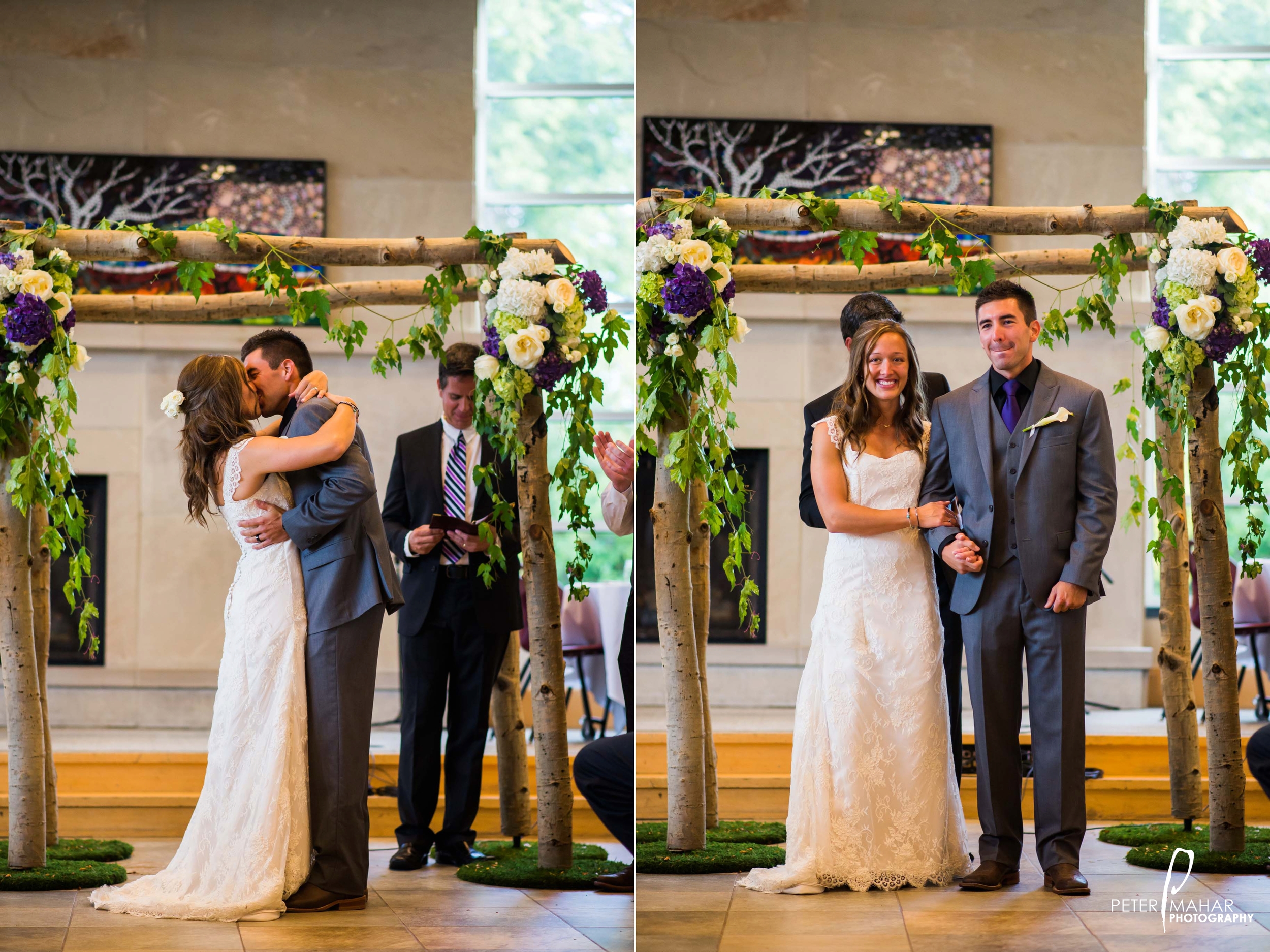 It cleared up beautifully as soon as the ceremony was over--just in time for stunning light for their photos together. However, the automatic sprinklers turned on where we were shooting, so we ironically still had the getting-soaked problem...
Sal and Stephanie are people who understand the miracle and the gift that love is, and that's beautiful to see. We were so thankful to be a part of such a joyful, emotional, Colorado-crazy-weather day, and just to be able to witness this kind of relationship.